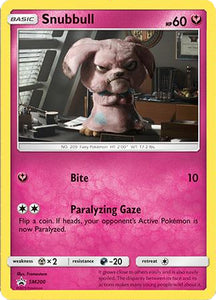 Pokemon Trading Card Game - Snubbull Promo SM200
Includes one copy of the holo Snubbull Promo SM200 card. The promo will come in its original sealed packaging.
This card will not be opened or shown on livestream. It will be added to your held items at Pokemon BariBari USA and only shipped once a "Send My Stuff" shipping request has been purchased. CLICK HERE to request USA shipping, or HERE to request international shipping. We can hold your item for as long as you like, but if you would like this item shipped to you immediately, make sure to add a "Send My Stuff" request to your cart as well.